2021/22 Admission Information for Y1-Y6 places
Thank you for your interest in a place in our school for September 2021. We want to provide you with as much information as we can to help you decide if you want to make an application for September, however under current restrictions we are unfortunately still unable to invite prospective parents into school to have a look around.
We are instead holding a Virtual Open Day on Wednesday 9th June at 4pm, where the Head Teacher will give a talk and presentation about our school and key staff will be on hand to answer any questions you may have.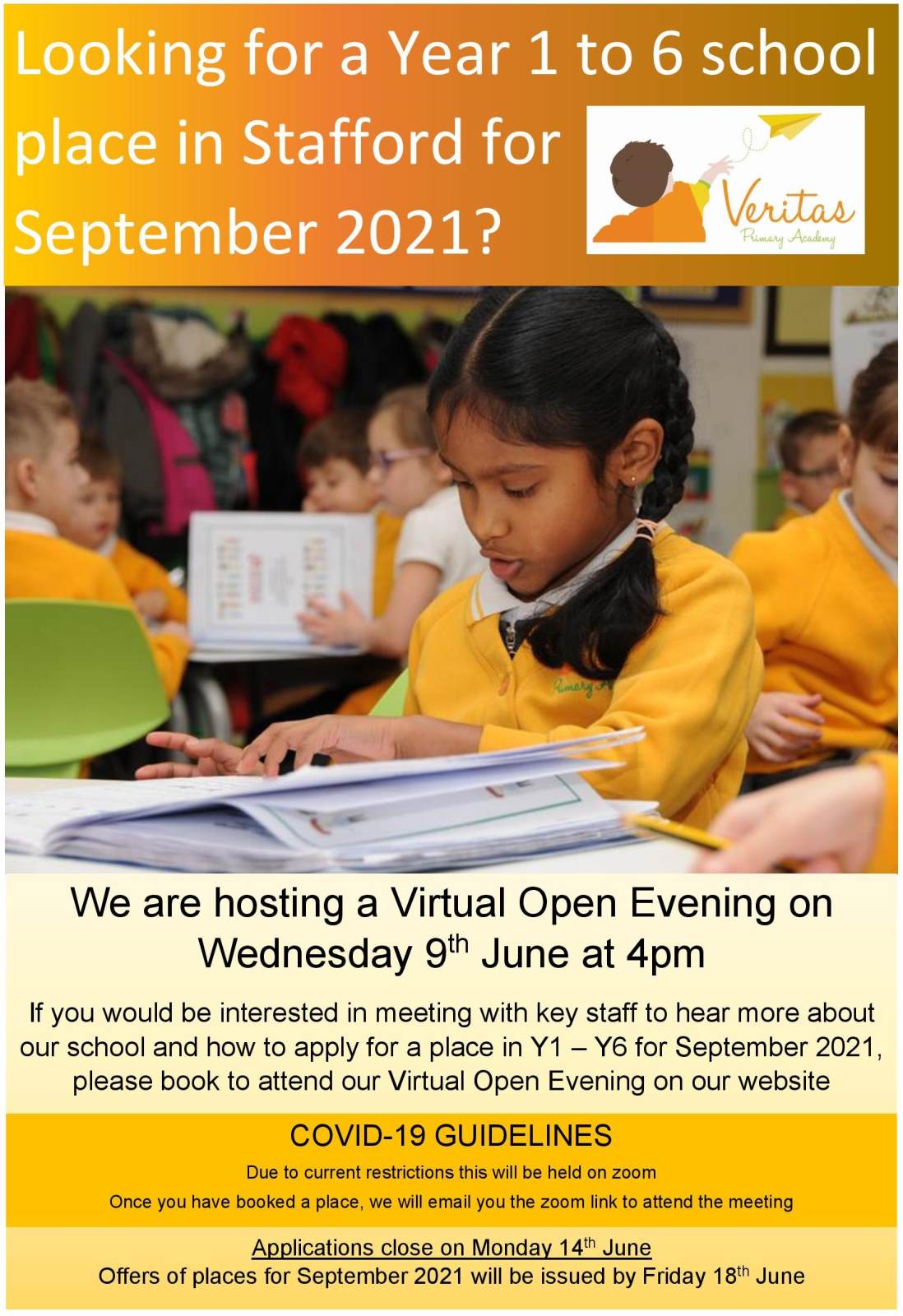 We have set a deadline to receive applications by Monday 14th June. Please download the application form and email it to office@veritasprimaryacademy by this date. If you are planning to move your child from another Staffordshire school you must get Section 4 of this application form completed by the Head Teacher of their current school before submitting this to us. If this section is not complete it may delay your application being processed.
Once the deadline has passed we will be ranking applications according to our admissions criteria as set out in our Admissions Policy and offers of places will be emailed to parents by Friday 18th June.
Admission Application Form - In Year Transfer
Please use the form below to request a zoom link to attend our Virtual Open Day
What happens next?
After your child is offered a place, you will receive a Zoom meeting invite to meet with your child's new class teacher. The purpose of this will be to meet your child and answer any questions you or they have before they join us in September.
We will also invite your child to attend our 'Move Up Afternoon' on Wednesday 7th July to spend some time in their new class with their new teacher before the summer holidays.
SCHOOL TOUR
CHILDREN's VIDEO
Here's what some of our children think about being a pupil at Veritas