Reading
At Veritas we aim to promote and encourage a love of reading in all of our pupils. In order to create a stimulating and inspiring place for children to want to read we carried out a complete renovation of our school library. This offers children a vibrant and exciting space to nurture their love of books! All classes have allocated library sessions throughout the week as well as reading corners in each classroom. We have fully stocked our library with reading books for pupils of all ages and reading abilities to offer something for everyone.
What does teaching look like across the school?
Reading Cloud
We use 'Reading Cloud' book scanning system to log what books the children have taken in order for staff and parents to track children's reading. This also helps us to understand what books children are enjoying at home. Children can use the reading cloud platform to blog and review their books and so much more.
Home School Diaries
Home school diaries are integral part of ensuring that the children are reading daily. Daily reading has a huge impact on children's learning. It enables them to become fluent and expressive readers and to comprehend a range of texts. It also builds children's imaginations, creativity and vocabulary banks. These are the building blocks to help children to become strong, creative writers.
The expectation is that children will read at least 3 x per week, although we strongly encourage that children should read 5 or more times per week for optimum impact. To encourage children to read, every class from Nursery to Year 6 have bookworm displays in their classroom. If the children read 3 or 4 times a week, they receive a coloured dot on their book worm. If a child reads 5 or more times a week, then they will receive a gold star. At the end of each term, those children who receive a certain amount of gold stars, will attend a reading party as a reward for fantastic reading.
Key Stage 1 Guided Reading
Here at Veritas Primary Academy we use Read Write Inc Phonics, a consistent, rigorous and dynamic programme that aims to teach EVERY child to read. Using synthetic phonics, children quickly learn to blend letter sounds together following a fun and effective programme.
Teaching
Phonics is taught 4 days a week for 30 minutes and each group is led by either a skilled teacher or teaching assistant. Children are exposed to a variety of high quality texts closely matched to their reading levels. This allows children to feel successful, thus becoming confident readers and re-reading and discussing these texts supports them to become fluent and expressive readers. When teaching reading skills we alternate different text types through non-fiction, fiction and poetry in order to promote a love of reading across our school.
In lessons pupils are taught to:
Decode letter-sound correspondences quickly and effortlessly, using their phonic knowledge and skills.
Read common exception words on sight.
Understand what they read.
Read aloud with fluency and expression.
Children are taught to understand what they read by focussing on the following 5 reading domains:
1) Draw on knowledge of vocabulary to understand texts.
2) Identify/explain key aspects of fiction and non-fiction texts, such as characters, events, titles and information.
3) Identify and explain the sequences of events in texts.
4) Make inferences from a text.
5) Predict what might happen on the basis of what has been read so far.
Assessing and tracking progress
We assess all pupils following Read Write Inc. Phonics using the Sound and Word Assessment test. We use this data to assign them to a level on the Read Write Inc. Phonics. This gives us a very good indication of how well they are making progress relative to their starting points. We do this for all pupils, whenever they join us, so we can track all of them effectively.
The Read Write Inc coordinator monitors pupil's progress. No child is left behind to struggle. Along with the class teacher, the children's results are recorded from the Sound and Word Assessments, which take place every half term. This data allows us to intervene in different ways. For instance, we quickly move pupils to another group if they are progressing faster than their peers. Those who continue to struggle receive targeted interventions in order to further support the development of their early reading skills.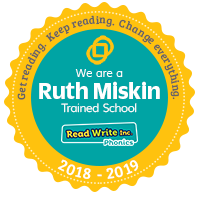 What's more, our staff are all Read Write Inc trained, therefore they are all skilled teachers of reading and support children in becoming confident and fluent readers.
Key Stage 2 Guided Reading
In key stage 2, we have three whole class reading sessions a week, focusing on the KS2 reading domains:
Content domain reference

2a – Meaning of words

give / explain the meaning of words in context

2b - Retrieval

retrieve and record information / identify key details from fiction and non-fiction

2c - Summarise

summarise main ideas from more than one paragraph

2d - Infer

make inferences from the text / explain and justify inferences with evidence from the text

2e - Predict

predict what might happen from details stated and implied

2f – Meaning as a whole

identify / explain how information / narrative content is related and contributes to meaning as a whole

2g – Word Choice

identify / explain how meaning is enhanced through choice of words and phrases

2h - Compare

make comparisons within the text

The texts that each year group use have been selected carefully to ensure that they are age appropriate and are challenging, high quality texts for the children to engage with.
The three sessions a week are outlined below:
Session 1: Vocabulary focus (meaning of words and contextual meaning / synonyms and antonyms)
Developing fluency and speed of reading / Talking out loud questions and answers to develop articulation and oracy
Session 2: Turning TOL's into quality written answers
Session 3: Independent application (children to independently read and answer comprehension questions)
*1 week of Reading Explorers (Half-Termly)
End of day shared story
Every class across the school are timetabled to have a shared story at the end of each day. This is to end the day calmly, promote reading for pleasure and to enhance children's reading by allowing them to access additional texts during the end of day story time sessions, in addition to those that they read in reading sessions and their own chosen books from the library.